It's here!!!!! The Tuesday Blog Party starts TODAY and will run through May 12. Let's KNOCK OUT PEDIATRIC CANCER!!! No mom should have to face Mother's Day without her sweet baby. You can read
my previous post
to learn a bit more about Tuesday, or go to
her mom's blog
...her mama is so strong, but her story will break your heart.
Click on the graphic above to learn more about the blog party and to see all the other giveaways that are taking place. All you have to do in order to enter each giveaway is donate ONE DOLLAR per giveaway to the Tuesday Fiona
Whitt
Foundation via
Paypal (you can make a single donation for the total amount covering all of the giveaways you are entering)
, then leave a comment on the blog doing the giveaway letting them know you've made the donation. When the blog party is over, each blog will randomly choose a winner.
My giveaway is a set of 3
adorable
burp cloths
, sewn by me. They are made from 100% cotton Gerber
pre-folded
cloth diapers and gorgeous 100% cotton Heather Bailey quilting fabric. The main print is a background of brown with beautiful greens, blues, yellows and a splash of red on it - and would be perfect for a baby boy or a girl! Any stylish mama would LOVE to have these!
Even if you're not pregnant or don't have a little one yourself, surely you have a friend who would love to be blessed with these pretties, or they would be a great baby shower gift! So click on the Paypal link here in this post, or over on my sidebar, make your ONE dollar donation, and then come back here and leave me a comment telling me how you heard about the Tuesday Blog Party and why you want these burp cloths!!

The giveaway will end at 11:59 pm Tuesday, May 12. Since Blogger doesn't require people to leave email addresses, and I don't want you to have to post your email addresses for all the world to see, check back here on Wednesday, May 13, and I will post the winner!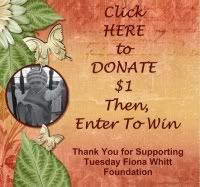 Thanks to all who entered; comments are now closed.
However, you may still donate at any time!!