Okay, it's getting serious now - only 11 days left in
our class
! Yikes! BUT I am SOOOO jazzed about how this art journal page turned out. I've never done an art journal page over black gesso, and oh my gosh - I'm so totally hooked! (As in, I went out and bought another big jar of black gesso this week just to make sure I don't run out! Ha!)
These flowers...I have to tell you about them. Because they started off being colored with my Caran d'Ache Neocolor II watercolor crayons - which I absolutely love. I only own 13 of them, but I adore them. I have 2 other kinds of watercolor crayons (did I mention I'm a watercolor junkie?), and while the Stampin' Up watercolor crayons ARE pretty decent, neither they nor definitely not the Reeves ones can hold a candle to the Caran d'Ache crayons. And I was SUPER excited to learn that they would color over black gesso and show up! How awesome! The first time I colored, I added water, and didn't really care for the results...so I colored over them again and just left the crayons. It was pretty cool looking. But they just weren't popping quite as much as I liked.
And THEN, at Aaron Brothers, I found these awesome things - I say "things," because they are sort of a cross between a pencil and a crayon - they're made by Stabilo, and they're called "Woody 3-in-1" - and they work as a crayon or a colored pencil or a watercolor crayon.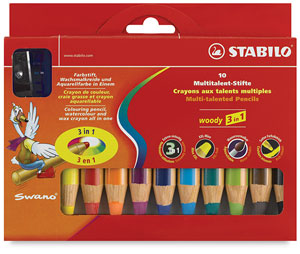 Anyway, I got them, and I colored over my flowers again - and SHUT THE FRONT DOOR - look at how bright my flowers got!!! These babies rock!
How much fun is this, with all the white journaling (done with a Pentel Sunburst gel pen), and the doodles (if you haven't tried the Sakura Souffle pens, you MUST), and most of all...those incredibly brilliant, vibrant pops of color in those flowers! (And YES, I know I spelled "believe" incorrectly...but it was so pretty, I didn't want to mess it up by trying to fix it...such is life!)
Anyway - if you haven't given black gesso as your base a try - you should try it out! SO MUCH FUN!
Supplies Used: